Shop MyDay Contact Lenses Online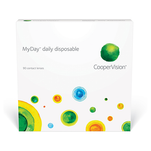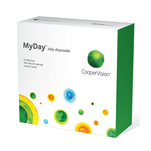 Order Your MyDay Contact Lenses Online For Less
Now you can purchase Myday contacts online. At OnlineContacts.com, you'll find the Myday contact lenses you need to help protect your eyes from UVA/UVB rays. Your eye doctor may prescribe contacts because of the special protection they provide. But you may prefer them because of their comfortable fit. Well, now you don't have to pay high-dollar to get the high-quality, brand name contacts you've come to love. Ordering Myday contacts online is convenient, easy, and a lot cheaper than ordering from your eye doctor. When you order Myday contact lenses from our online optical retail store, you'll get quite a few other perks too. For instance, if your order total is over $99, you'll get free shipping. We'll also send you a notification when it's time for a refill, so you don't forget to reorder. We'll also send a reminder when your prescription is soon to expire. With service and affordable prices like ours, why would you shop anywhere else?
Find Your Exact MyDay Lens Prescription Today
Our inventory includes Myday Daily contacts. You can order a package of 90 lenses or a package of 180 lenses. Remember that they are disposable and need to be replaced every day. Take that into account when choosing the size to order. The contacts' design provides you with a higher level of comfort. Myday Daily contact lenses are made from patented Smart Silicone. These contacts are the exact same ones you'll find in your eye doctor's office and come directly from the manufacturer. We carry both the box of 90 and 180, so you can get the amount that works well for your lifestyle and budget. You will be able to get the Myday Daily contacts and enjoy their comfortable fit and protection at an affordable price. Let us help you get the contacts you need at a great price! Order your Myday Daily contacts from OnlineContacts.com today!